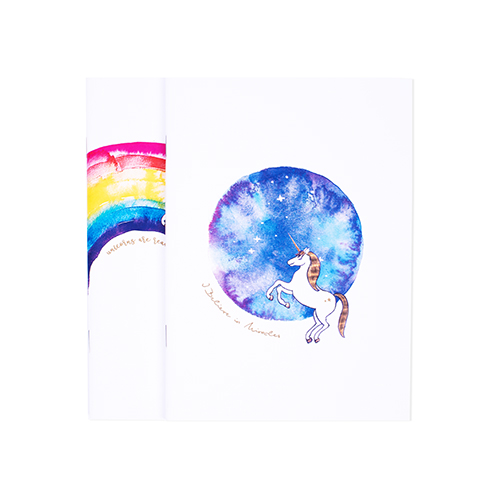 Mary Tale Notebooks, Create Together, Create with Love
Mary Tale Notebooks
Be Creative
With technology coming earlier into our children´s lives, there are many studies that reinforce and prove the importance of handwriting and drawing for children's brain development.
Our notebooks are developed manually with a lot of love and dedication. The covers have exclusive Mary Tale prints and their interiors have recycled sheets.
The smooth interior allows imagination to flow, supporting colorful, joyful, dream-filled designs, ideas and thoughts.
They are sold in sets of two, of course! For mothers and children, making it possible to have shared creative and magical moments.
The sets provide two notebooks, one measuring 10x15cm and one measuring 15x20cm.
Mary Tale has created 3 distinct sets, all of them with our dear unicorns! Star and rainbow patterns are also on the list!
Now listen to your heart and start creating!
Always remember that within you there is a world full of color, magic and a lot of happiness! Just give it the proper attention!
---